China
Premier Wen thanks foreign experts for concern for disaster-hit areas
Source: CCTV.com | 02-05-2008 08:15
Special Report: Winter Storm Relief

Premier Wen Jiabao has talked to foreign experts and their families in Beijing.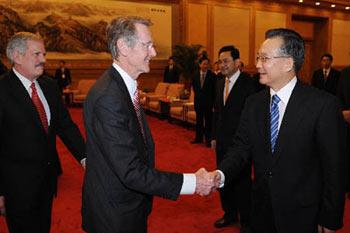 Edwin Maher (L) is shaking hands with Chinese Premier Wen
Jiabao (R). Chinese Premier Wen Jiabao said in Beijing on
Monday that China is confident and capable in achieving the
final victory in combating disasters incurred by low temperature,
ice and heavy snow. Wen made the remarks at a seminar with
more than 20 foreign experts who have been engaged in revolution
and construction in China for a long time.(Xinhua Photo)
CCTV International News anchor, Edwin Maher, was among them. Wen Jiabao extended New Year greetings to all foreign experts working in the country and expressed gratitude for their contributions.
Premier Wen Jiabao met more than 20 foreign experts at the Great Hall of the People. Three representatives talked to Premier Wen about their opinions on education, environmental protection and international cooperation.
Wen Jiabao said all foreign experts are true friends of the Chinese people. He said that many of them have worked in China for quite a long time, and have contributed to China's modernization and construction efforts. He said the Chinese people will always remember their contributions. He admired the foreign experts' continuing efforts to help China's reform and modernization.
Premier Wen Jiabao said southern China has experienced rare natural disasters in recent days. He said under the leadership of the Party and the government, the country has made effective progress, and has actively organized to combat the crisis. People have united with the armed forces in the affected areas to deal with the situation. Wen Jiabao said that due to their hard work, electricity supply will be resumed, transport will flow smoothly once again, and people's daily lives will get back to normal. The Premier said all Chinese people have the confidence and ability to overcome the crisis. He thanked foreign experts for their concern, and said he appreciated the humanitarian support of the international community.
Editor:Zhang Ning