World
French President Sarkozy marries
Source: CCTV.com | 02-03-2008 09:08
French President Nicolas Sarkozy has married supermodel-turned-singer Carla Bruni at the Elysee Palace, less than three months after they reportedly first met.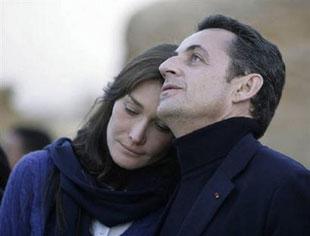 France's President Nicolas Sarkozy and Carla Bruni
walk together during a visit to the Giza pyramids in
Cairo, in this December 30, 2007 file photo.
REUTERS/Nasser Nuri/Files
The pair tied the knot at a low-key civil ceremony conducted by the mayor of a Paris district.
About 20 people attended. This is Sarkozy's third time at the altar. He has three children.
Sarkozy and Bruni said last month that they planned to marry after a whirlwind romance.
They said they wanted privacy but their relationship has been splashed across the media and Sarkozy's popularity ratings have plunged in recent weeks, with the French public complaining that he was focusing too much on his private life.
Editor:Zhang Pengfei