China
Premier Wen makes 2nd trip to Hunan
Source: CCTV.com | 02-02-2008 08:16
Special Report: Winter Storm Relief

For the second time in just three days, Premier Wen Jiabao is back in Hunan Province. He's there to oversee disaster relief work through the region.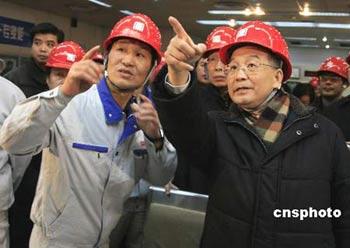 Wen Jiabao talked with electricity company workers in Hunan
province, Feb.2, 2008.
Upon his arrival in Changsha, Wen Jiabao immediately held a meeting with local and State Council officials and heard reports from the provincial government. The premier stressed the most important tasks now are to make sure roads are open, electricity is on, and people are safe.
Wen Jiabao said, "Roads, railways, and especially expressways must be kept open. The damaged power grids must be restored as soon as possible. The people's interests must be safeguarded. In particular, food, clothes and medical care must be offered to stranded passengers. "
The Premier was also in Hunan three days ago to direct disaster relief work.
Leaders´ visits boost morale amid China´s winter-weather crisis
Chinese leaders have been going to the front lines of the disaster. Senior CPC leaders Jia Qinglin, Xi Jinping and Zhou Yongkang separately visited the provinces of Anhui, Guizhou and Henan provinces.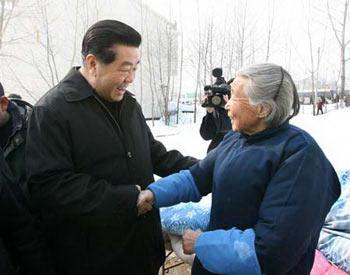 China's top political advisor Jia Qinglin pays a visit to
snow and ice hit An Hui Province Friday to boost the morale
of snow fighters and guide relief work.(Xinhua Photo)
Press conference: China fights snow disaster
At an emergency press conference, transportation, electricity, and communication officials said they are all taking emergency steps to deal with the disaster.
Editor:Zhang Ning