China
President Hu urges fight against corruption
Source: CCTV.com | 01-16-2008 08:18
The Communist Party of China's disciplinary body has concluded a two-day plenary session, pledging to step up its anti-corruption campaign. General Secretary Hu Jintao addressed the meeting attended by senior party leaders.
<!a href=# target=_blank>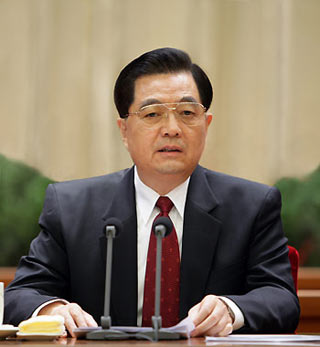 <!a href=# target=_blank>Chinese President Hu Jintao, also general secretary of CPC Central Committee, pledges to step up the nation''''s anti-corruption campaign in his keynote speech at a plenary session of CCDI of the CPC Jan. 15, 2008. (Xinhua Photo)
Hu Jintao stressed the party must have a clear understanding of the situation to fight corruption. He added that fighting corruption is a long-standing, complicated and arduous task the party must take.
Hu said that the Communist Party of China has a tradition of attaching importance to anti-corruption, especially at historic moments in the nation's development.
The General Secretary emphasized that in the coming years, the party will continue efforts to find more scientific ways to fight corruption. He added corruption must be eliminated from its roots. Hu Jintao said tougher measures will be taken to punish corrupt officials. In the meantime, he says more supervision mechanisms should be formed to prevent corrupt activities.
Hu Jintao urged local CPC discipline inspection bodies to explore new forms of corruption generated from fast economic development, and to keep improving anti-graft systems.
Figures from the disciplinary body of the CPC show that more than 31,000 commercial bribery cases were dealt with last year. The amount of money involved was over 7 billion yuan. Nearly 7,000 government officials and staff were punished. Six fields were the main targets of last year's anti-corruption campaign. They include construction projects, land selling, assets and equity exchange, sales of medicine and medical instruments, government purchasing and mine development.
Editor:Zhang Ning