World
Germany zoo keepers feed polar bear cub
Source: CCTV.com | 01-12-2008 08:40
Germany's latest celebrity polar bear cub is being handfed by keepers at the Nuremberg Zoo.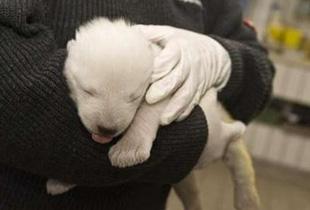 A handout picture shows a polar bear cub born by polar
bear Vera at the zoo in Nuremberg January 10, 2008.
The German media on Thursday predicted a bright future
for the female polar bear cub. [Agencies]
The yet-unnamed four-week-old cub was taken from its mother, Vera, on Tuesday amid concerns she could harm or even kill the newborn.
Four keepers are caring for the baby bear, believed to be female, feeding it high-fat milk every two to three hours.
The zoo is seeking another motherless polar bear or brown bear cub to raise alongside the newborn.
For now, though, the cub has to do with a little stuffed toy polar bear.
Keepers say the young bear would benefit from having a bear playmate, rather than seeing its human keepers as its natural companions.
Vera's cub is expected to make its public debut by early April.