China
Wal-Mart opens new store in China
Source: CCTV.com | 12-11-2007 08:56
<!a href=# target=_blank>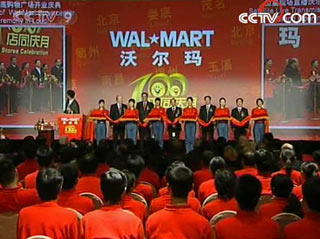 <!a href=# target=_blank>
US retail giant Wal-Mart has added another store in its drive to expand in China's huge market. The new branch in central China's Hunan province is the retailer's 94th on the Chinese mainland.
Walmart has the goal of opening 100 stores on the Chinese mainland. The latest outlet brings the company a step closer.
The US trade deficit with China has hit a new record, fueling complaints in US Congress about China's trade practices. But according to senior US commerce officials who attended the store's opening celebrations, increasing China's consumer's base will eventually help bridge the gap between the two countries and better balance trade.
US Commerce Secretary Carlos Gutierrez said, "President Hu, has often talked of the need to increase Chinese consumption as a means to address a bilateral trade imbalance and to shift China's economy away from focusing primarily on exports. US companies like Walmart offer a wide variety of highly competitive consumer products."
Wal-Mart vice president Terrence Cullen said, "We understand that we are creating business in China that is consistent with the Chinese government's desire to increase consumer spending in China."
For ordinary Chinese shoppers, Walmart presents a chance to experience Western shopping practices in a unique environment.
A shopper said, "The shopping environment here is good. For me, the prices here are acceptable. It's good here."
Walmart began its business in China in 1996. The first store was in the Shenzhen special economic zone. Expansion has accelerated in the last three years, with more than half of the current 94 stores opened during the period. So far, the retail chain can be found in over 50 cities in China.
Editor:Zhang Ning