China
China, France sign 20 co-op deals
Source: CCTV.com | 11-27-2007 08:20
<!a href=# target=_blank>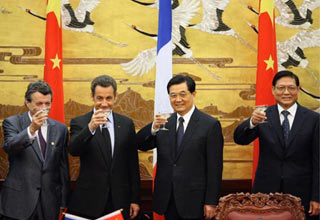 <!a href=# target=_blank>
Chinese President Hu Jintao (2nd R) and French President Nicolas Sarkozy (2nd L) toast during a signing ceremony of documents on cooperation in the fields of environmental protection, nuclear energy, aviation, and etc. at the Great Hall of the People in Beijing, capital of China, Nov. 26, 2007. (Xinhua Photo)
President Hu Jintao has met with his French counterpart Nicolas Sarkozy. A highlight of the meeting was the signing of 20 documents on cooperation. Top legislator Wu Bangguo and Premier Wen Jiabao also met with Sarkozy on Monday.
Six months after taking office, Nicolas Sarkozy made China his first destination in Asia.
This is not the first meeting between the two leaders, but it is a new page for China-France relations.
Hu Jintao said multi-lateral cooperation should be strengthened to meet global challenges. Hu is also seeking to expand bilateral economic and trade cooperation, particularly in nuclear energy, aviation and aerospace.
Sarkozy agreed to deepen exchanges and enhance strategic dialogue. He also took a clear stance on the Taiwan issue, saying France is opposed to Taiwan independence and the island's planned referendum for UN membership. Sarkozy stressed that any unilateral initiative would be ineffective and unjustified.
<!a href=# target=_blank>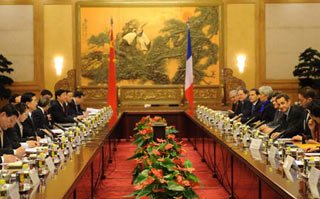 <!a href=# target=_blank>
Chinese President Hu Jintao (3rd L) meets with his French counterpart Nicolas Sarkozy (3rd R) at the Great Hall of the People in Beijing, capital of China, Nov. 26, 2007.(Xinhua Photo)
While diplomacy remains high on the agenda, trade has emerged as a new focus. The French president wants a more balanced relationship between the euro, the US dollar, the Chinese yuan and the Japanese yen.
The two sides signed over 20 documents on cooperation in sectors including environmental protection, nuclear energy, communication, investment and city planning. Leading the deals is an agreement worth 17.4 billion US dollars for 160 Airbus planes. And Areva has signed an 11.87-billion dollar deal to help the China Guangdong Nuclear Power Group build two reactors in the southern province.
The two sides also released a joint statement on combating climate change.
Also on Monday, top legislator Wu Bangguo held talks with Sarkozy. Wu Bangguo thanked France for its support of the One China Policy. He called for deeper communication between the two legislatures, improved friendship between the two peoples, and practical cooperation. Sarkozy said he hopes France and China can work together to promote a strategic partnership.
In a separate meeting, Premier Wen Jiabao said China values its ties with France, and economic and trade ties have been fruitful in recent years.
Sarkozy said France will increase dialogue with China. The two leaders also exchanged views on the renminbi exchange rate and protection of intellectual property rights.
Editor:Zhang Ning