China
East China on high alert as Typhoon Wipha approaches
Source: CCTV.com | 09-18-2007 13:52
<!a href=# target=_blank>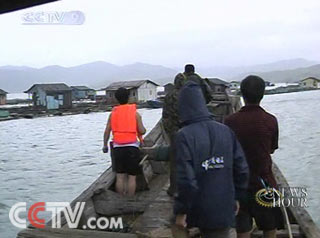 <!a href=# target=_blank>
The region is on high alert as Typhoon Wipha, now classed as severe, approaches its coastal areas. Shanghai and the provinces of Zhejiang and Fujian are preparing to face its full brunt.
The national meteorological observatory is warning the typhoon could cause the worst damage in recent years. Wipha upgraded from a regular typhoon on Monday afternoon. At 6 pm, its center was located about 750 kilometers southeast of Taizhou in Zhejiang Province. Wipha is heading northwest at a speed of 20 kilometers an hour, packing winds of nearly 200 kilometers an hour. The provincial flood control headquarters believe Wipha could develop into a super typhoon and is very likely to hit the southern areas between Cangnan and Xiangshan on the Zhejiang coast late Tuesday or early Wednesday.
A warning has been issued to the public and local authorities to prepare to recall vessels, relocate residents, patrol reservoirs and brace for geological disasters.
Editor:Zhang Ning