World
Hurricane Felix lashes Caribbean islands
Source: CCTV.com | 09-03-2007 17:22
<!a href=# target=_blank>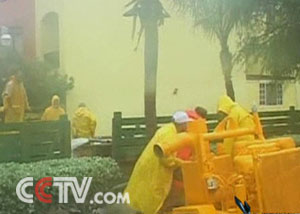 <!a href=# target=_blank>
In the Americas Hurricane Felix has strengthened into a dangerous Category 5 storm, barreling toward central America on a path toward Mexico's Yucatan Peninsula.
On Sunday, Felix intensified at alarming speed. It toppled trees and flooded some homes on a cluster of Dutch Caribbean islands, churning its way into the open waters of the Caribbean Sea.
Hurricane Felix lashed the Dutch Caribbean islands of Aruba, Curacao and Bonaire with rains and heavy winds on Sunday. It caused scattered power failures and forced tens of thousands of tourists and residents to remain in hotels or at home.
Aruba forestry department offical Ricky Lavalas said, "Right now, we are closing off the road here so nobody can pass to avoid any further problems that could occur. The storm is pretty strong and the sea is extremely rough, so we've got to close it."
A swimmer Jani Winterdal said, "We will have a little fun and I am not afraid because you need bigger waves for it to be scary."
Felix was packing maximum sustained winds of 220 kilometers per hour. It's expected to spin over the open waters of the central Caribbean, before skirting Honduras' northern coastline on Tuesday. Later, it's expected to plow into Belize on Wednesday as a huge hurricane capable of major damage.
Felix became the second Atlantic hurricane of the season on Saturday evening. The first -- Hurricane Dean -- killed at least 20 in the Caribbean and carved out a destructive path, stretching from St. Lucia to Mexico.
Editor:Yang Jie