World
Thousands of Greeks flee homes as wildfires kill 63
Source: CCTV.com | 08-28-2007 08:53
<!a href=# target=_blank>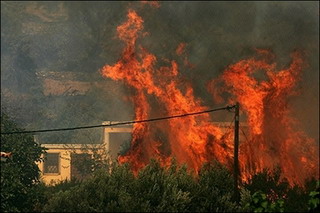 <!a href=# target=_blank>
A house burns in the village of Kapsala in Evia island. More international help was set arrive in Greece on Monday to fight the deadliest forest fires in the past 150 years, amid growing suspicion that many of the blazes which have killed 63 people were arson(AFP/Aris Messinis)
Greece's worst wildfires in decades have killed 63 people and left thousands homeless. Local officials and firefighters are stepping up efforts to reign in the fires with help from abroad.
Greece's worst fires in decades continue to rage from the southern tip of the Peloponnese to the northern town of Ioannina.
Yannis Petropoulos, Frixa villager, said, "This is a catastrophe, I am 75 years old, and I have never dealt with something like this before."
Greece has declared a nationwide state of emergency.
Senior Greek officials met in an urgent session to discuss the forest fires. After the meeting, the Public Order Minister has gone to the Peloponnese peninsula to improve fire fighting efforts.
Byron Polydoras, Greek public order minister, said, "We still have a problem. The situation is good, but the battle is still going on."
Over a dozen countries are joining efforts in the ongoing fight as Greece appeals for help from abroad.
France and Spain sent aircraft, Israel and Cyprus firefighters.
Greek authorities have suggested arson as the cause of many of the blazes mostly to clear land for development.
The government has offered rewards of up to one million euros for help in tracking down arsonists. Several people have been arrested.
An investigation is underway.