World
Russia arrests 10 over murder of journalist Anna Politkovskaya
Source: CCTV.com | 08-28-2007 08:39
<!a href=# target=_blank>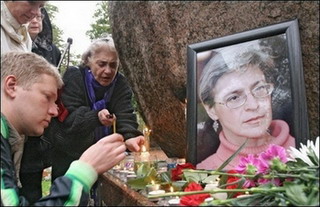 <!a href=# target=_blank>
People light candles near a picture of killed Russian journalist Anna Politkovskaya during a commemoration rally in St. Petersburg in 2006. (AFP/Interpress/File/Sergei)
Ten people are being held by Russian police for the death of journalist Anna Politkovskaya. They include law enforcement officers and a Chechen crime boss accused of organizing her murder.
Respected journalist Anna Politkovskaya was shot dead on October 7th as she stepped out of her apartment in Moscow. Prosecutor General Yuri Chaika suggests the killing was plotted from outside Russia to discredit its leadership and provoke disorder.
Chaika is echoing earlier statements by President Vladimir Putin and his allies who suggest her death could have been plotted by Kremlin foes who have fled Russia as part of a campaign to damage the country's image.
Yuri Chaika, Russian prosecutor general, said, "Right now ten people have been arrested in regard to this murder. These are organizers and executors of the crime. The results of the investigation shows that the crime was very well planned. There were two monitoring groups, when one of them was following the journalist, the second was controlling the first group and vice versa. Leader of the Moscow crime group was heading this plot. He is a Chechen native, who led an organized crime ring specializing in contract killings."
Chaika said those arrested helped track Politkovskaya and provide her killers with information. They include one police major, a Federal Security Service officer, and three former police officers.
He says the people behind Politkovskaya's killing may also have been involved in the 2004 shooting death of American magazine editor Paul Klebnikov.