China
NPC Standing Committee meets to discuss 12 draft laws and amended laws
Source: CCTV.com | 08-24-2007 15:20
<!a href=# target=_blank>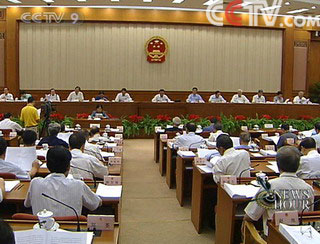 <!a href=# target=_blank>
The twenty ninth session of the Standing Committee of the Tenth National People's Congress opened on Friday. The meeting will discuss 12 draft laws and amended laws during the seven day session.
The Standing Committee will give third reading to 4 draft laws. They are the Anti Monopoly Law, the Emergency Response Law, the Employment Promotion Law, and the amendment of the Animal Quarantine Law.
The Law Committee of the Standing Committee suggests the four draft laws be voted on at the session.