China
Costa Rica´s president hopes to deepen ties with China
Source: CCTV.com | 08-24-2007 09:01
<!a href=# target=_blank>
<!a href=# target=_blank>
Costa Rica's president says he hopes his country's relations with China will deepen.
Oscar Arias made the remarks during a meeting with a Chinese delegation in Costa Rica's capital of San Jose. The delegation was led by Assistant Foreign Minister He Yafei.
<!a href=# target=_blank>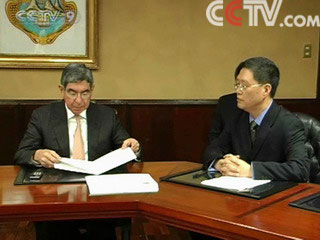 <!a href=# target=_blank>
Arias says the establishment of diplomatic relations between the two countries opened a new chapter in bilateral ties. Arias also reiterated his country's adherence to the one-China policy.
He Yafei conveyed a letter from President Hu Jintao to Arias, in which the Chinese president spoke highly of the historic contribution made by Arias himself to Sino-Costa Rican ties.