China
30 bicycle rental stations established in Beijing
Source: CCTV.com | 08-20-2007 14:15
<!a href=# target=_blank>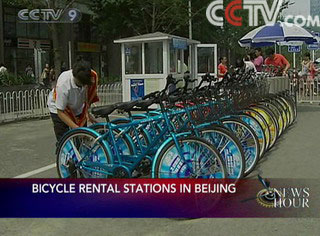 <!a href=# target=_blank>
During the four-day traffic control test, the Beijing Municipal government is encouraging its citizens to take public transport and to ride bicycles. Meanwhile, the city has established over 30 bicycle rental stations.
<!a href=# target=_blank>
<!a href=# target=_blank>
One bicycle rental station is located near Beijing's Central Business District. Dozens of brand-new bikes are waiting to be used. And, many people have chosen them as their daily mode of transportation.
Beijing residents, said, "I work near here. But many buses don't stop at my workplace. So I choose to rent a bike to get to work. It's convenient and cheap. Renting a bicycle here only cost me 27 cents a day. "