China
Typhoon Sepat claims at least 15 lives in China
Source: CCTV.com | 08-20-2007 08:45
<!a href=# target=_blank>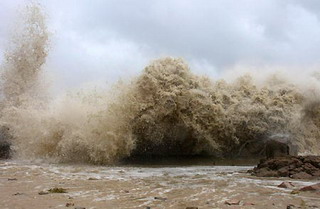 <!a href=# target=_blank>
Photo taken on August 18, 2007 shows the big wave at the Dongtou Island of Wenzhou, east China's Zhejiang Province.The Southeast China provinces are girding for the imminent Typhoon Sepat with cancellation of flights, evacuations of ships, boats and more than half a million people. Typhoon Sepat is expected to land with heavy winds and downpours in the coast between Lianjiang and Xiamen of Fujian Province around 7:00 p.m. Saturday.(Xinhua Photo)
Typhoon Sepat is expected to arrive at Jiangxi Province by Sunday but has weakened to strong tropical storm.
Meanwhile, the death toll due to a tornado connected to Sepat in Zhejiang Province has risen to 15. Experts predicted heavy rainfalls triggered by typhoon Sepat will continue in the province for two more days until Tuesday morning.
Three people are confirmed dead and another is missing after the landslide in Minhou County, Fujian.
Downpours also hit Minqing County to the west of Fuzhou, Fujian's capital. The Daruo train station collapsed, derailing six carriages of a cargo train.
Sepat is the ninth typhoon of this year. It landed at Chongwu in Quanzhou City early on Sunday morning and lashed central and northern Fujian with gales and rainstorms.
Sepat damaged hundreds of houses in Quanzhou and destroyed crops on thousands of hectares of land. It also cut off power supply lines and damaged water control projects. More than 150,000 people have been affected -- and economic losses are estimated at over 70 million yuan.
Air traffic has resumed in Fujian, according to sources with the Xiamen Airlines.
In neighboring Zhejiang Province, gales and heavy rains- spawned from the typhoon killed at least 15 people and seriously injured six others. Two people injured in the tornado that hit the Longgang township of Wenzhou City died in hospital. The dead also included a man who was killed when a landslide triggered by rain knocked his van off a road in Cangnan County.
Editor:Du Xiaodan