World
Bush, Jordan´s King meet for private talks on Mideast peace process
Source: CCTV.com | 07-25-2007 14:44
<!a href=# target=_blank>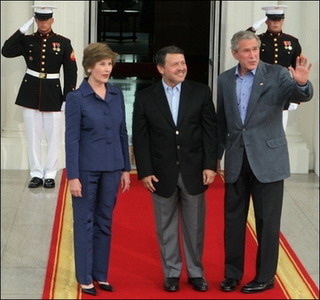 <!a href=# target=_blank>
US President George W. Bush (R) waves as he and his wife Laura greet King Abdullah II (C) of Jordan as he arrives for dinner at the White House in Washington 24 July 2007.(AFP/Nicholas Kamm)
US President George W. Bush and visiting King Abdullah of Jordan have met at the White House.
White House officials say the two leaders had private talks on reviving the Middle East peace process. The officials declined to reveal the details of Tuesday's talks.
But reports say the president and the king discussed efforts to push for peace between Israel and the Palestinians and bilateral issues.
Editor:Du Xiaodan