China
China delegation arrive in Washington for 2nd meeting of SED
Source: CCTV.com | 05-22-2007 08:36
Special Report: 2nd meeting of SED

<!a href=# target=_blank>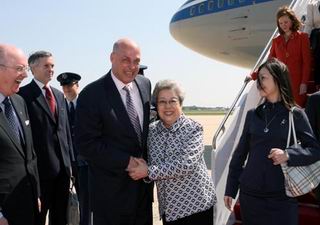 <!a href=# target=_blank>
Chinese Vice Premier Wu Yi arrives at the Andrews Air Force Base outside Washington on Tuesday, May 22, 2007. US Treasury Secretary Henry Paulson welcomes her at the airport. Wu Yi heads a delegation to attend the second meeting of the Strategic Economic Dialogue scheduled to begin on Tuesday. [Photo: Xinhua]
A high level Chinese trade delegation arrived in Washington on Monday for two days of talks with its United States counterparts.
The Chinese delegation is headed by Vice-Premier Wu Yi. She will co-chair the talks with US Treasury Secretary Henry Paulson. The Chinese delegation includes as many as 16 ministerial-level officials.
The meetings are part of the second Strategic Economic Dialogue between the two countries. Delegates are expected to review progress since a December round of meetings in Beijing.
The initial dialogue was launched by Chinese President Hu Jintao and US President George W.Bush in September 2006.
Editor:Du Xiaodan