China
Sandstorms hit north China
Source: CCTV.com | 04-02-2007 14:57
<!a href=# target=_blank>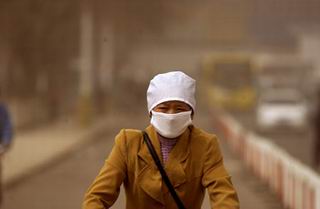 <!a href=# target=_blank>
A cyclist wears a mask to protect against the sandstorm in Lanzhou, Northwest China's Gansu Province, March 28, 2007. Northern China was blanketed in dust on Saturday as the first sandstorm of the year struck the region, including the capital Beijing. (newsphoto)
<!a href=# target=_blank>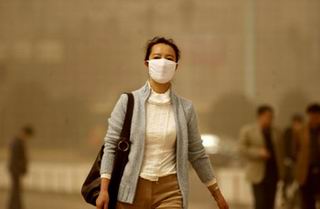 <!a href=# target=_blank>
A woman walks amid sandstorm in Lanzhou, Northwest China's Gansu Province, March 28, 2007. Northern China was blanketed in dust on Saturday as the first sandstorm of the year struck the region, including the capital Beijing. (newsphoto)
Sandstorms continue to blast North China, blanketing many cities in floating dust. The China Meteorological Administration says the bad weather will last till Tuesday.
Meteorologists say a cyclone from Mongolia will affect most of northern China in the next two days. Temperatures will drop by four to eight degrees Celsius. Sandstorms are forecast in parts of Ningxia Hui Autonomous Region, Gansu Province and the Inner Mongolia Autonomous Region.
Qiao Lin, engineer China Meteorological Admin., said, "Sandstorms have affected air quality. People should avoid outdoor activities when the harsh weather is coming."
The dusty weather is sending many people to the hospital.
Doctor Beijing Chaoyang hospital, said, "For people with respiratory diseases such as bronchial asthma and pneumonia, sandstorms may be a trigger."
The China Meteorological Administration has forecast 11 to 15 sandstorms in northern areas this spring.