China
CPC senior official meets Turkmenistan party leader
Source: Xinhuanet | 03-16-2007 08:51
Special Report: 2007 NPC & CPPCC sessions

<!a href=# target=_blank>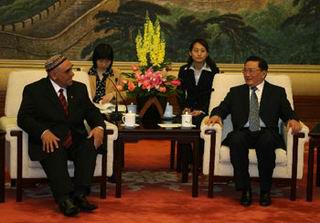 <!a href=# target=_blank>
Luo Gan (R1), member of the Standing Committee of the Political Bureau of the CPC Central Committee, meets with Onjik Musaev, the First Secretary of the Political Committee of the Democratic Party of Turkmenistan in Beijing March 15, 2007. (Xinhua Photo)
BEIJING, March 15 (Xinhua) -- A senior official of the Communist Party of China (CPC) and a Turkmenistan party leader agreed Thursday to further exchanges between the two countries and parties.
The mechanism of the regular exchanges of visits between the CPC and the Democratic Party of Turkmenistan (DPT) had constituted an important component of the bilateral ties, said Luo Gan, member of the Standing Committee of the Political Bureau of the CPC Central Committee.
On Sino-Turkmenistan relations, he said the two countries had deepened political trust and cooperation in all fields. He pledged China will enhance the relations with Turkmenistan.
Luo made the remarks when meeting with the First Secretary of the Political Committee of the DPT Onjik Musaev who is heading the first delegation to China since Gurbanguly Berdymukhamedov became president in February.
Musaev said Turkmenistan's friendly policy towards China is "consistent", thus the two countries would continue to enhance the cooperation in the political, economic and energy resources fields.
The DPT, the former Communist Party of Turkmenistan, was established in 1991 and now has more than 120,000 members. The DPT forged the relations with the CPC in 1992.
Editor:Du Xiaodan