China
Commentary: discussions about state affairs during annual sessions promote democracy
Source: Xinhuanet | 03-15-2007 17:07
Special Report: 2007 NPC & CPPCC sessions

<!a href=# target=_blank>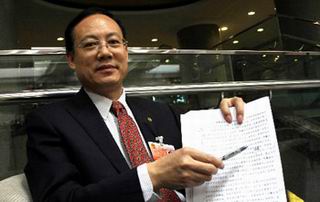 <!a href=# target=_blank>
NPC deputy Gao Zhiguo shows his two proposals of "controling the pollution in the Bohai Sea" and "developing oceanic economy," which have been concluded in the government work report. (Xinhua Photo)
BEIJING, March 15 (Xinhuanet) -- A more open and pragmatic image is what this year's annual sessions of the National People's Congress (NPC) and the National Committee of the Chinese People's Political Consultative Conference (CPPCC) have impressed most the media and people at home and abroad.
A Xinhuanet commentary said that people are delighted to find that the NPC deputies and CCPPC members are free to express their views on state affairs and people's livelihood and that quality proposals and bills have been submitted in large numbers.
Luo Yifeng, a NPC deputy said, "Things are completely different from when I was elected a grassroots NPC deputy in 1981. In the past, when I made investigations at grass-roots units, the two questions I heard most often were 'Will this work?' and 'Is your proposal of any use? "
He added that now things have changed completely. "Many people provided me with clues, information and suggestions of their own accord -- they have shown increasingly greater trust on the deputies," he said.
During this year's annual sessions, the media have been giving full coverage and making in-depth interpretation of the proposals and bills submitted by the deputies and members.
In the meantime, the general public have been actively involved in the sessions by making suggestions via various media organizations, especially websites. The distance between inside and outside the session venue is so short, and the atmosphere of participating in discussing state affairs is so strong that the concept of seeking common development and jointly building a harmonious society has been turned into concrete actions, thanks to the concerted efforts of all social sectors.
The annual sessions serve as a grand gathering to discuss state affairs. NPC deputies and CPPCC members from all walks of life have been discussing national strategies concerning development and reforms on an equal footing with Chinese leaders and have conveyed people's concerns directly to them.
As everyone can see, the commentary said, the speeches of deputies and members during this year's annual sessions are characterized by frankness and speaking their minds.
When talking about successes, they are objective and moderate and never go in for exaggeration; when discussing problems, they always speak to the point and never cover them up. The equal atmosphere prevailing during the sessions has enabled some opinions reach the central leadership in its original version.
For example, a popular verse criticizing the fraudulent practices of some officials at grass-roots units was told by a CPPCC member right in the presence Premier Wen Jiabao. The face-to-face account of such a verse undoubtedly demonstrates the atmosphere of pragmatism, harmony and equality during this year's annual sessions.