China
China´s 2007 budget to focus on building new socialist countryside
Source: CCTV.com | 03-09-2007 14:08
Special Report: 2007 NPC & CPPCC sessions

<!a href=# target=_blank>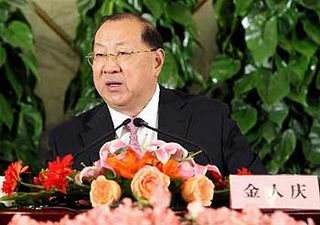 <!a href=# target=_blank>
China's Minister of Finance, Jin Renqing, says the primary focus of the government's budgetary spending this year will be to build a new socialist countryside. And also to improve people's living standards in rural areas.
He made the remarks on the sidelines of the ongoing National People's Congress session. Jin also said that more funding will go toward boosting employment and strengthening social security.
Minister Jin Renqing says China's central government is working harder than ever to improve rural areas, agriculture and farmers. The central government allocated 340 billion yuan to this effort in the budget last year. And he says, this year this figure will increase by about 52 billion.
On top of complete nationwide abolishment of the agricultural tax and livestock tax in 2006 the central government will now dedicate 9.2 billion yuan, or some 1.1 billion US dollars to pay all tuition and miscellaneous fees necessary for compulsory education in the rural areas. Almost 15 million rural students will be direct beneficiaries.
One sixth of the total expenditure will be directed towards the agricultural sector. This includes subsidies to guarantee minimal living conditions for farmers. And also subsidies for health care and social security. Under the scheme, 80 percent of the country's rural population will be covered under a cooperative medical care system. The funding will also be used to improve rural infrastructure such as roads, and power and water supplies.
Minister Jin also elaborated on the Corporate Income Tax Law, the focus of discussion during this year's NPC session. He says the task of unifying the income tax system for both domestic and overseas-funded firms has been carried out by the central government. By setting both taxes to an equal 25 percent, the basic aim of this tax reform is to combine the two systems into a unified, transparent and fair one. He says this will also help to optimize the use of overseas investment as well as strengthen the structure of national economy.
Minister Jin adds that MORE funding will also be allocated to push forward the development of China's remote western region. This, as well as to rejuvenate the aging industrial base in the northeast, and stimulate growth in central China. And also to maintain the momentum of development in the country's eastern coastal cities.
Speaking on the increase of fiscal revenue in 2007, Jin Renqing says the excess amount will be used in economic and social undertakings that are in line with the principle of "putting people first". Among them, promoting innovations in mechanisms and policies to make education and medical services more available and affordable. And also to strengthen employment and social security work, and encourage scientific advancement in social and economic affairs.
Editor:Du Xiaodan