China
China aims to rid dire poverty by 2010
Source: China Daily | 03-07-2007 10:08
Special Report: 2007 NPC & CPPCC sessions

<!a href=# target=_blank>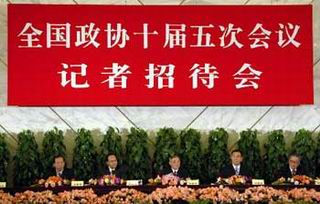 <!a href=# target=_blank>
A press conference is held by the Fifth Session of the Tenth National Committee of the Chinese People's Political Consultative Conference (CPPCC) in Beijing, March 6, 2007. The CPPCC National Committee members Chen Yaobang, Zhang Baowen, Lin Yifu and Wang Zhibao were invited to attend the press conference. (Xinhua/Zhu Xiang)
<!a href=# target=_blank>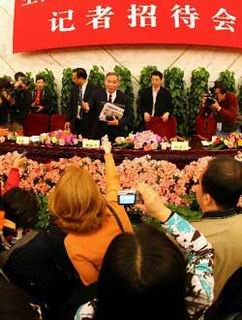 <!a href=# target=_blank>
Journalists ask questions to Chen Yaobang (C), a member of the National Committee of the Chinese People's Political Consultative Conference (CPPCC), after a press conference held by the Fifth Session of the Tenth National Committee of the CPPCC in Beijing, March 6, 2007. The CPPCC National Committee members Chen Yaobang, Zhang Baowen, Lin Yifu and Wang Zhibao were invited to attend the press conference. (Xinhua/Zhu Xiang)
BEIJING, Mar. 7 -- No one in China should live in dire poverty by 2010, members to the National Committee of the Chinese People's Consultative Conference (CPPCC) said yesterday.
"I am confident that we can meet this target by 2010," Chen Yaobang, a former official in the agriculture and forestry ministries, said.
"By a simple calculation, we can see that if each person gets 300 yuan from the government, then we only need 6 billion yuan to solve the problem of people in dire poverty."
The number of Chinese living in dire poverty, earning below a 638 yuan (82 U.S.dollars) a year, dropped by 2.78 million in 2006, according to official figures.
Those considered to be earning low income, below 958 yuan (123 dollars), fell by 5.17 million.
A report submitted by the Ministry of Finance to the Fifth Session of the 10th National People's Congress, said China will earmark 391.7 billion yuan (50.54 billion dollars) on rural expenditure, an increase of 15.3 percent.
However, there are still many who need help, with 21.48 million people still in dire poverty and 35.5 million in the low-income basket, Zhang Baowen, vice-minister of agriculture, said.
This year, Zhang said, the government had four initiatives to help China's "Three No" farmers.
Those with no job, no land and no social security will be targets of a promise in Premier Wen Jiaba's work report to set up a minimum cost of living allowance for the country's most disadvantaged rural residents.
"A trial project has already been conducted in the eastern provinces and rich provinces, which has been quite successful," Chen Yaobang said, adding this year's focus should be on the western and central areas.
And Wan Zhibao, former director of the State Forestry Administration, said the State Council would soon map out plans to develop mountainous regions.
According to Justin Lin Yifu, vice-chairman of the Committee for Economic for Economic Affairs of the CPPCC National Committee, the key issue for the new socialist countryside is to improve farmers' incomes, which could be achieved by developing modernized agriculture and non-agriculture business.
"But the construction of the 'new socialist countryside', a move aiming to narrow China's yawning urban-rural wealth gap, should not be misunderstood as the construction of new villages," Lin said.
Some village heads, for instance, after visiting Huaxi Village in East China's Jiangsu Province, were impressed by its pretty buildings and took it for granted that the new building was a symbol for the "new socialist countryside", Lin said.
In Huaxi, the average annual villager income is 41.8 times that of the country's farmers in 2004. It is regarded as the model for the new countryside concept.
"That kind of misunder-standing will increase farmers' financial burden and impair their interests," Lin said.
Editor:Du Xiaodan