China
Chinese mainland slams Chen Shui-bian´s independence remarks
Source: CCTV.com | 03-06-2007 09:04
<!a href=# target=_blank>
<!a href=# target=_blank>
<!a href=# target=_blank>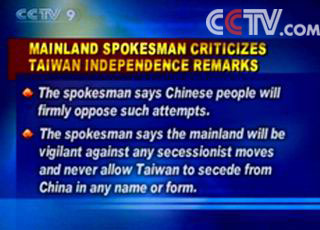 <!a href=# target=_blank>
Taiwan leader Chen Shui-bian has said he wants independence for the island. He says there's no right wing or left wing in politics just re-unification or independence. A Chinese mainland spokesman has lashed out at his remarks, saying it was another dangerous step towards secession.
The spokesman for the offices in charge of Taiwan affairs in the Central Committee of the Communist Party of China and China's State Council says Chen has replaced the "four no's" pledge with a "four wants" policy calling him "a faithless politician."
The "four wants" include a declaration of Taiwan independence, the incorporation of "two states" wording into the constitution, and changing Taiwan's official name.
The spokesman says Chen's attempt to seek Taiwan independence through constitutional reform poses a huge threat to peace and stability across the Taiwan Strait and to Asia and the Pacific.
He says the Chinese people, including Taiwan compatriots, will firmly oppose such attempts.
The spokesman says the mainland will continue its efforts to improve cross-strait relations. He emphasizes it will never allow Taiwan to secede from China.