China
2007 sessions more open to foreign reporters
Source: CCTV.com | 03-05-2007 10:01
Special Report: 2007 NPC & CPPCC

<!a href=# target=_blank>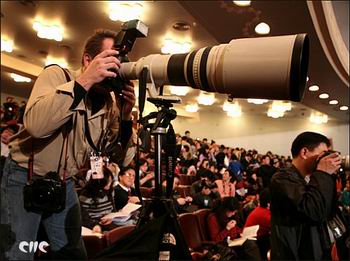 <!a href=# target=_blank>
A total of 504 overseas reporters had registered for the two sessions by Thursday. Overseas journalists covering the annual sessions of the NPC and CPPCC can for the first time contact and interview lawmakers and political advisers "directly." (Xinhua Photo)
A number of new measures have been taken to make this year's NPC and CPPCC sessions more open to the public.
Many of the measures are foreign press oriented, to give reporters more access to the work of the legislature. That's all geared towards letting the world know more about China's most important political event.
This year's session will work out a number of new measures to facilitate global coverage of the NPC and CPPCC sessions. For the first time, foreign journalists can interview delegates, and delegations' residences are public knowledge. Many foreign news agencies say because of these new measures, they can do much more preparation work. And with that, the volume and quality of their reports is higher.
The Chinese bureau of Japanese broadcaster NHK assigned 35 reporters to the two sessions. They employ translators and fast typists for important press conferences.