China
CPPCC members arrive in Beijing for annual session on March 3
Source: CCTV.com | 03-02-2007 16:03
Special Report: 2007 NPC & CPPCC

<!a href=# target=_blank>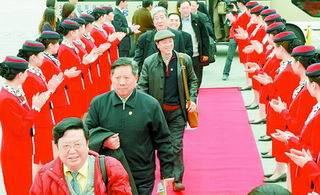 <!a href=# target=_blank>
The fifth session of the 10th National Committee of the Chinese People's Political Consultative Conference, the country's top political advisory body, will open Saturday afternoon in Beijing.
More than 2,000 CPPCC members from across the country will gather at the annual session to raise proposals and suggestions.
This year's agenda will include reviewing a work report about the Standing Committee of the CPPCC National Committee, to be delivered by Jia Qinglin, chairman of the the CPPCC National Committee.
Meanwhile, members have been arriving in Beijing for the upcoming session. CPPCC members from central China's Henan and Hubei provinces were greeted by reporters as they arrived by train. They say the most crucial issue for them is maintaining "harmony."
The CPPCC will hold its first press conference at the Great Hall of the People in Beijing, at 3 o'clock this afternoon. CCTV International will keep you up to date on any developments.
Editor:Du Xiaodan