China
Senior official stresses importance of political cosultation
Source: Xinhuanet | 03-01-2007 08:43
Special Report: 2007 NPC & CPPCC

<!a href=# target=_blank>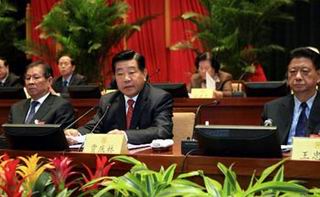 <!a href=# target=_blank>
China's top political advisor Jia Qinglin (C) makes a call on the 16th meeting of the Standing Committee of the National Committee of the Tenth Chinese People's Political Consultative Conference (CPPCC), which concludes on Feb. 28.(Xinhua Photo)
BEIJING, Feb. 28 (Xinhua) -- China's top political advisor Jia Qinglin on Wednesday stressed the importance of political consultation and called for members of the political advisory body to improve their working style.
Jia made the call on the 16th meeting of the Standing Committee of the National Committee of the Tenth Chinese People's Political Consultative Conference (CPPCC), which concludes on Feb. 28.
The meeting proposed an agenda for the upcoming fifth annual plenary session of the Tenth CPPCC National Committee which will convene on Mar. 3, and passed work reports of the Standing Committee of the CPPCC National Committee.
The agenda will be further deliberated by the coming annual session.
Jia said the coming annual session of CPPCC National Committee along with that of the National People's Congress (NPC) is key to building a harmonious society and to the preparations for the 17thNational Congress of the Communist Party of China (CPC).
He also said it is important for CPPCC members to behave themselves to create a more favorable political atmosphere.
Two disgraced senior Chinese officials -- Zheng Xiaoyu and Qiu Xiaohua were stripped of their CPPCC membership on Wednesday's conference.
Known as the government's "think tank", CPPCC members are activists, experts, scholars and public figures from various walks of life.
The main function of the CPPCC is to conduct political consultations, exercise democratic supervision and discuss the handling of state affairs.
Editor:Du Xiaodan