China
Premier Wen: Promoting fairness, social justice is a major task
Source: Xinhuanet | 02-27-2007 08:39
Special Report: 2007 NPC & CPPCC

<!a href=# target=_blank>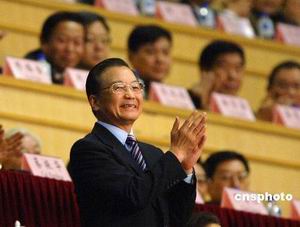 <!a href=# target=_blank>
BEIJING, Feb. 26 (Xinhua) -- While developing productive forces and immensely increasing material wealth, China needs to gradually secure fairness and social justice, Chinese Premier Wen Jiabao said in an article released on Monday.
He called them "two interrelated and mutually beneficial tasks" that will run through various stages of socialism for a long period.
In the article, which is about historical tasks in the primary stage of socialism and China's foreign policy, Wen said without sustained rapid growth of productive forces, it's impossible to finally secure fairness and social justice that lies within the essence of socialism.
Without gradually promoting fairness and social justice in step with development of productive forces, it's impossible to bring the initiative and creativity of the whole society into full play and thus impossible to secure sustained rapid development of productive forces.
The essence of socialism is to "emancipate and develop productive forces, eliminate exploitation and polarization and eventually realize common prosperity", Wen quoted the late Chinese leader Deng Xiaoping as saying.
Wen said that "China is and will remain to be in the primary stage of socialism for a long time". The primary stage is an "underdeveloped" stage characterized by underdeveloped productive forces and a socialist system that is still not perfect and mature enough.
He said China's socialist market economic system is till not perfect enough. The democratic and legal system is still not perfect enough and there still exist social injustice and corruption. The socialist system is still not mature enough.
He said today, China is still far from walking out of the primary stage of socialism and remains a developing country.
Wen said that China must encourage reform and innovation in it drive to become more open and modernized.
To reform and innovate, the country must "boldly" absorb and borrow from all world civilizations advanced management methods that reflect a modern society, he said.
Wen said China is determined to pursue peace, with the country's economy developing mainly on its own strengths. These include its large population, vast land, rich resources and huge market potential.
He said that years of development have paved a road toward sustainable development. The country is moving toward an energy-saving and environment-friendly society.
China will hold high the banner of peace, development and cooperation and observe an independent foreign policy of peace, Wen said.
Wen said that peaceful development has never been about expediency, but is a consistent and long-term foreign policy and strategy of China.
The essence of the peaceful development road is to strive for a peaceful international environment for China's development and meanwhile boost world peace through China's development.
Wen said that to win respect of the international community, China must rely not only on improved economic, scientific, and technological strengths and better living conditions of the people, but also the national character, the country's democracy and legal system, and the country's cultural and ideological advance and moral strength.
While economic development has been China's central task for years, the country never slackens efforts in enhancing its political and cultural system and building a harmonious society to establish an image of a responsible nation, Wen said.
He said China is also a nation that respects cultural diversity. Various cultures should learn from each other to enrich the human civilization.
Wen said that China shall develop the democracy in its own way. The socialist system is not contradictive to democracy, and a highly developed democracy and a complete legal system are inherent requirements of the socialist system and an important benchmark of a mature socialist system.
The country has the full capacity to establish a nation of democracy governed by laws within the framework of socialist system, Wen said.
He pledged to develop democracy, improve the legal system and continue to push forward political system reform.
Editor:Du Xiaodan