China
China´s transport system braces for post-holiday rush
Source: CCTV.com | 02-25-2007 09:56
Special Report: 2007 Spring Festival

<!a href=# target=_blank>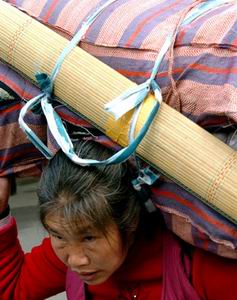 <!a href=# target=_blank>A travelers carrying her baggage goes out of
the railway station in Fuzhou, southeast
China's Anhui Province, on arrival on
February 23, 2007.(Xinhua)
As the seven-day spring festival holiday comes to an end, China's transportation links are being strained once again. Migrant workers make up a large percentage of the passenger load.
As they cope with the transport crunch, local governments are also preparing for the migrants return to work.
The travel rush started on Friday. Transportation authorities predict it will last 5 days.
Passenger volume in the provinces of Henan, Sichuan, Auhui, Jiangxi, Hunan and Hubei is up dramatically. 31,000 more vehicles are on the roads.
The airlines say flight numbers are up over 14 percent from last year, with seat occupancy reaching 80 percent in major tourist cities like Beijing.
China Rail estimates there was a record high of four and a half million passengers on Friday. Additional trains have been added to handle the load.
<!a href=# target=_blank>
<!a href=# target=_blank>A number of migrant workers who was back home for Lunar New Year have left home again and began to return to their working posts for livelihood in the new year. (Xinhua)
As the migrant workers return to their jobs, many local governments are trying to help them out.
At the Tongling railway station in Anhui province, migrant workers are getting handbooks on law.
Liu Zhonghe, official Tongling Employment Bureau, said, "It can help raise their sense of law and help migrant workers avoid being cheated."
Railway police in southern city of Liuzhou provide information on job sites, with bus timetables and telephone numbers.
Traveller said, "It reduces the trouble for us."
Some farmers are opting for training rather than looking for work. In the eastern city of Suzhou, migrant workers are preparing for professional certification. The city government has made it a policy to provide free job skills training for all the migrant workers in Suzhou.
Editor:Du Xiaodan