China
China starts 7th reading of draft property law
Source: CCTV.com | 12-25-2006 14:46
Special Report: 2007 NPC & CPPCC

BEIJING, Dec. 24 (Xinhua) -- China's long-debated property law is a step closer to approval as it was tabled again to lawmakers on Sunday for the seventh reading.
Also submitted for consideration was a proposal that the bill should be put for voting at the next full session of the National People's Congress (NPC) in March.
<!a href=# target=_blank>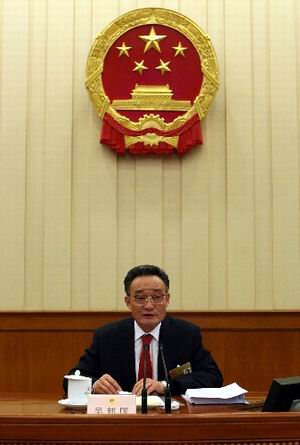 <!a href=# target=_blank>
The draft property law, a sweeping bill designed to protect both public and private ownership, has undergone more reviews than any other bill by the NPC Standing Committee, China's top legislature.
"Lawmakers agreed that the draft, after being revised for several times, is better written and is close to maturity," said Hu Kangsheng, deputy director of the NPC Law Committee, when delivering an explanatory report to the legislative penal.
He said lawmakers agreed that the draft law, which is "on the correct political direction" and is based on situation of the country, represented China's basic economic system.
Hu said, the draft, based on the principle of equality, enhanced the protection to state property, reflected China's basic policy on rural issues and safeguarded the basic interests of the general public.
"It solved the realistic problems that need to be regulated urgently," Hu said.
The NPC Law Committee, the bill's drafter, suggested the lawmakers agree to "submit the draft to the Fifth Session of the 10th National People's Congress for deliberation" after the unprecedented seventh reading. The NPC usually holds its full session in March.
It is believed that the lawmakers will adopt the committee's suggestion on Dec. 29 when the current session ends.
As part of the draft civil code, the property bill was submitted to the NPC Standing Committee for the first review in 2002 and withdrawn from the NPC full session last March amid worries that the draft, the country's first specific law to protect private ownership, might undermine the legal foundation of China's socialist system.
The draft was further revised last August to install state ownership at the heart of the economic system after 15,000 suggestion from the public were pooled. It also added measures to prevent fraudulent acquisitions and mergers of state assets.
The latest version, which tries to strike a balance between private property and state ownership, says all market players enjoy equal legal status and rights for development.
It adds new clauses that prohibit illegal possession, open looting, private partition, withholding and demolishing of state assets. Similar clauses were also added for the collective and private property.
The NPC Standing Committee members are also debating new clauses to the law that will allow farmers to prolong their land contracts when the contracts expire.
Editor:Sun Luying