World
You are Time´s Person of the Year
Source: CCTV.com | 12-18-2006 11:03
Time magazine, long famous for its annual 'Person of the Year' award, has broken with tradition by selecting millions of people instead One of which is you.
<!a href=# target=_blank>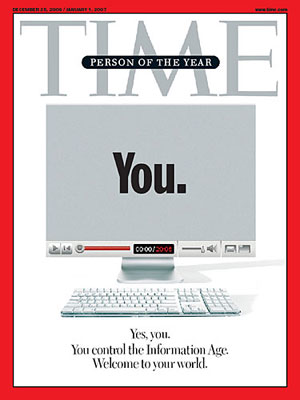 <!a href=# target=_blank>Time magazine unveiled its "Person of the Year" for 2006 on Dec. 16, 2006, as -- You, the creators and consumers of user-generated Internet content like video-file sharing site YouTube and social network MySpace. (Xinhua/Reuters Photo)
The 2006 "Person of the Year" was announced at the news magazine's headquarters in New York on Saturday.
The periodical hits newsstands on Monday, with a white keyboard on the cover and a mirror for a computer screen, where buyers can see their reflection.
"Time's Person of the Year for 2006 is you, the consumers and creators of user-generated content, who are transforming the information age. From You Tube this year to My Space, individuals all across the planet were changing the way we do business, changing the way we perceive each other, changing the way we perceive the war." Richard Stengel, Time editor said.
Runner up was Iranian President Mahmoud Ahmadinejad. The magazine says he touched on the most vital issues of the year, the war in Iraq and the rise of Shi'ite power.
The magazine also cited 26 "People Who Mattered," including the DPRK's Kim Jong Il and Pope Benedict the 16th.
It was not the first time the magazine shied away from naming an actual person for its "Person of the Year."
In 1966, the 25-and-under Generation was cited; in 1975, American Women were named; and in 1982, it was The Computer.
Editor:Du Xiaodan