China
Japan´s top negotiator in six-party talks arrives in Beijing
Source: Xinhuanet | 11-27-2006 10:44
<!a href=# target=_blank>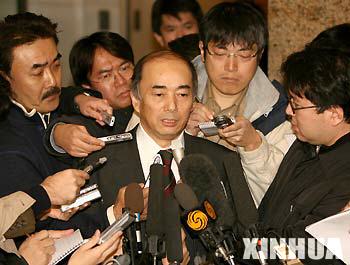 <!a href=# target=_blank>Kenichiro Sasae, Japan''s chief negotiator in the six-party talks, is interviewed by reporters in Beijing,Nov. 26, 2006.During his stay in Beijing, Kenichiro Sasae is scheduled to meet his Chinese counterpart to discuss restarting the six-party talks.
BEIJING, Nov. 26 (Xinhua) -- Kenichiro Sasae, Japan's top negotiator in the six-party talks, which aims to resolve the nuclear issue on the Korean Peninsula, arrived in Beijing Sunday evening.
Kenichiro Sasae, head of Japanese Foreign Ministry's Asian and Oceanian Affairs Bureau, told the press at a hotel in Beijing that he would meet Wu Dawei, vice foreign minister of China and the Chinese chief negotiator in the six-party talks, to discuss issues related to the six-party talks including the abduction issue.
The six-party talks, focusing on denuclearizing the Korean Peninsula, group China, the Democratic People's Republic of Korea (DPRK), the Republic of Korea (ROK), the United States, Russia and Japan.
The multilateral negotiations broke down in November last year triggered by U.S. financial sanctions aimed at the DPRK's alleged money laundering and counterfeiting.
The DPRK stunned the world on Oct. 9 this year by conducting its first underground nuclear test, prompting international condemnation, but it agreed last month to rejoin the nuclear disarmament talks. No fixed date has been set yet.
The DPRK's Vice Foreign Minister Kim Kye Gwan, the country's chief delegate to the six-party talks, may also visit Beijing, but the possibility of bilateral talks of Japan and the DPRK on this occasion remained slim, Kyodo said.
At the hotel, Sasae denied any agenda or arrangements so far for meeting with Kim or for any other multilateral meetings.
Sasae said he would also meet with Hu Zhengyue, head of the Chinese Foreign Ministry's Asian Affairs Department, to discuss future Japan-China relations and how to implement the consensus reached by the top leaders of the two countries during their meeting in Beijing in October and their meeting in Hanoi in November respectively.
Editor:Wang Ping