China
Sino----Arab communiqué signed
06-02-2006 10:39
<!a href=# target=_blank>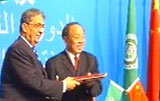 China and twenty-two Arab states have signed a joint communique at the conclusion of a forum on Sino-Arab cooperation. The communique, along with other documents signed during the meetings, outline specific areas for cooperation between China and the Arab world.
Part of the communique is aimed at stepping up the anti-terror cooperation in bilateral, regional and multi-lateral fields.
And in the Action Plan, the two sides vowed to establish a dialogue mechanism to further promote energy cooperation. It says that China and Arab states will hold their first meeting on oil issues within the next two years.
Other documents include environmental protection and the launch of an entrepreneurs' conference mechanism. Li Zhaoxing said, "The two sides have conducted discussions on the improvement of the Sino-Arab Forum as well as bilateral relations. We have reached consensus on the promotion of our new partnership."
One of the main aspects of the new partnership is the strengthening of economic ties. Arab countries have expressed admiration for China's economic miracle, and are hoping to double the trade volume with China soon. Amr Mahmond Moussa said, "We expect a big promotion of bilateral trade contact. The current trade volume is over 51 billion US dollars. We hope this figure will reach 100 billion within two or three years."
Secretary General of the Arab League, Amr Moussa said that the next ministerial meeting of the Sino-Arab Cooperation forum will be held in Bahrain. Mao Xuzhi said, "Although the Sino-Arab Forum was established only two years ago, it has now become an active mechanism for China and Arab states to strengthen partnership. The documents signed at this years' ministerial meeting will become the guidelines for Sino-Arab ties in the next two years.
Editor:Chen Minji