China
New mission for CZ-2F rocket
Source: CCTV.com | 09-25-2008 16:32
Special Report: Shenzhou-7 Manned Space Flight

Rockets in the Changzhen 2-F series were used to launch China's first two manned space flights. As Xu Zhaoqun tells us, the rocket has undergone a thorough retooling to get ready for the Shenzhou 7 mission.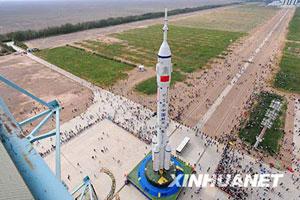 The Shenzhou-7 manned spaceship, the Long-March II-
F rocket and the escape tower are vertically
transferred to the launch pad at the Jiuquan Satellite
Launch Center in northwest China's Gansu Province Sept.
20, 2008. The transfer finished at 3:15 p.m.on Saturday,
marking the final stage of the launching preparation.
(Xinhua Photo)
When Yang Liwei traveled on Shenzhou 5 -- China's first manned space flight -- five years ago, he felt sick soon after take-off.
Analysis of flight data showed there was too much vertical sympathetic vibration during blastoff.
Adjustments were made for Shenzhou Six. But there was still some vibration.
One and a half years ago, engineers finally came up with a solution.
Jing Muchun, Chief Designer of CZ-2F rocket Series, said, "We made changes to the pipelines of the rocket engine, adjusting its frequency. A new design for the pressure accumulator produced evident results. The vibration has now been reduced by more than 50 percent."
According to the rocket's chief designer, the Shenzhou 7 mission will be the first time in the world that an energy-converting pressure accumulator is used in a rocket engine.
Another innovation is the use of stainless steel, instead of an aluminum alloy, for parts of the pressure amplification system.
The appearance of this rocket is very similar to the others in the Changzheng 2F series -- but it has different technical capabilities.
Its designers say that's because considerations had to be made to allow for the mission's spacewalk.And it is the last of its kind.
Zhang Zhi, Deputy Chief Designer of CZ-2F rocket Series, said, "Compared to its predecessors, this rocket contains thirty-six modifications. But its performance will remain reliable. In fact, reliability is of utmost importance here. That's why we had to work so much harder in the past few years."
To ensure both the safety of the astronauts and the success of the mission, the rocket's designers and manufacturers have spent countless hours on quality control, paying special attention to the new parts.
Liu Yu, Manager, CZ-2F rocket Series, said, "The rocket has been used only for a very short time. It will travel for little more than 30 minutes before it's separated from the spaceship. This is the most crucial stage in the flight. Everything has to be perfect."
The reliability of the rockets in the Changzheng 2-F series is such that they have also been used to launch other countries' equipment into space.
---
 Interactive: Be part of China's journey to space!
Editor:Zhang Pengfei