World
Car bomb kills 4 in Colombia´s Cali
Source: CCTV.com | 09-02-2008 08:34
A car bomb has exploded in front of the Palace of Justice in the Colombian city of Cali. At least four people were killed and 20 others injured in the blast on Monday.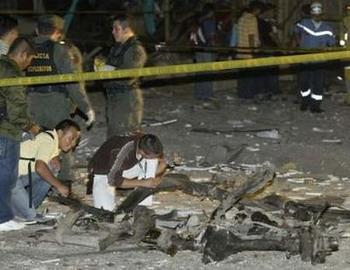 Colombian police officers inspect the remains of a car
after an explosion in Cali city September 1, 2008.
REUTERS/Jaime Saldarriaga (COLOMBIA)
The victims are reported to be pedestrians in the center of the city about 300 kilometers southwest of Bogota.
The attacks are being investigated and police have reportedly offered 55,000 US dollars for information leading to the arrest of those responsible.
The Palace of Justice was damaged in the blast, along with dozens of homes. Authorities are still searching for evidence that could give them information about the bombing.