China
More China-made high-speed trains to hit the rails
Source: Xinhuanet | 04-13-2007 09:23
<!a href=# target=_blank>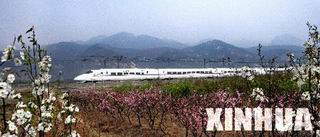 <!a href=# target=_blank>
File photo taken on April 5, 2007 shows a CRH (China Railway High-Speed) bullet train in a test operation along the railway between Beijing and Shanghai. (Xinhua Photo/Yuan Ruilun)
BEIJING, April 12 (Xinhua) -- China will put more than 500 China-made high-speed trains into operation this year after boosting the speed limit for rail traffic for the sixth time, the Ministry of Railways said on Thursday.
The speed boost will start on April 18, said Hu Yadong, the ministry's vice minister, at a press conference held in Beijing.
Hu said 280 high-speed trains will be put into operation on April 18 and a total 514 such trains be in use by the end of this year.
Hu said raising the speed limit will help to boost passenger and cargo capacity on the nation's 77,000-km railway lines by 18 percent and 12 percent respectively.
Travel time between major cities will be slashed by up to 50 percent as the trains will travel at speeds of up to 250 kilometers per hour, said Hu. Currently, express trains in China travel at an average of 115 kilometers per hour.
He Huawu, chief engineer of the ministry, said the upgrade of 6,003 kilometers of track has cost an estimated 29.6 billion yuan (3.8 billion U.S. dollars).
The high speed trains show that China has mastered technology that was once held by Japan, Germany and France, said Zhang Shuguang, the ministry's deputy chief engineer.