Source: Xinhua
05-12-2009 11:53
NEW DELHI, May 11 (Xinhua) -- South Korean consumer products giant Samsung has for the first time launched full screen touch phones in India, manufactured at the company's production unit in satellite town Noida outside New Delhi.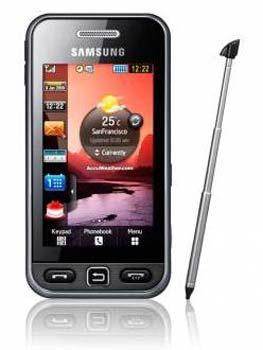 Samsung launches touch screen phones in India
"Samsung Star and Samsung Star 3G are significant additions to our full-touch screen mobile portfolio, featuring all the essential functions in one single device. At Samsung, our effort is to deliver various full touch products for every consumer lifestyle," Sunil Dutt, Country Head of Samsung Mobile Division, told the media on Monday.
The Samsung Star has a slim and compact body measuring 11.9mm and incorporating Samsung's TouchWiz User Interface with one of the features called 'Photo Contact' enabling users to call the contact at the touch of an image. The phone is priced at 11,100 rupees (222 U.S. dollars).
The Samsung Star 3G model allows users to browse internet with an accelerometer sensor for auto-rotation. The phone is priced at 14,499 (290 U.S. dollars), the company official said.
-- Click for more news in Tech Max >>
Editor:Yang Jie