Source: Xinhua
05-05-2009 12:14
Special Report:
Tech Max
NEW DELHI, May 4 (Xinhua) -- South Korean consumer electronic major Samsung has showcased itself as the innovator in the Indian TV industry by launching the first LED High Definition TVs in the country.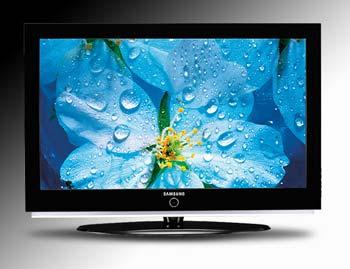 Samsung's LED TV(File photo)
"Samsung is the first organization to introduce the LED TVs in India. The organization had earlier launched LCD TVs and Plasma TVs. Light Emitting Diode (LED) is an updated version of LCD screens which offers standard quality picture," a company release said Monday.
The new LED TVs are more energy efficient and environment friendly. The Samsung authorities also announced that LED TVs reduce energy consumption by over 40 percent.
Samsung India launched three LED HD TV Series - Series 6 (40-inch), Series 7 (46-inch), and Series 8 (55-inch).
"The use of LED technology enables Samsung's LED TVs to be 70 percent slimmer and consumes less than 40 per cent of the power consumed by conventional LCD TVs," it said.
The LED 6 series is priced between 125,000 and 145,000 rupees, while the 7 series is priced between 140,000 rupees and 180,000 rupees and both are currently available in the market. The 8 series will be available from late this month and is priced at 350,000 rupees.
One U.S. dollar exchanges about 50 rupees.

-- Click for more news in Tech Max >>
Editor:Yang Jie