Source: Xinhua
05-12-2009 11:53
Special Report:
Tech Max
WASHINGTON, May 11 (Xinhua) -- The U.S. space shuttle Atlantis lifted off Monday with seven-member crew onboard from Kennedy Space Center in Florida, on a mission to upgrade the 19-year-old Hubble Space Telescope for the last time.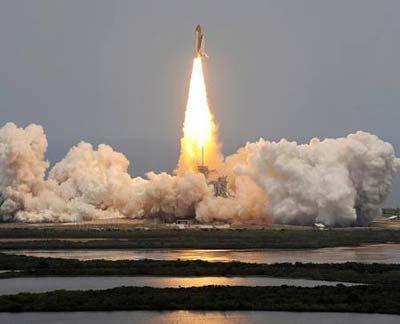 Space shuttle Atlantis lifts off on a mission to NASA's Hubble Telescope
from its launch pad at the Kennedy Space Center in Cape Canaveral, Florida
May 11, 2009.(Xinhua/AFP Photo)
The blastoff occurred at 2:01 p.m. EDT (1801 GMT). It is NASA's second space shuttle flight in 2009 and the 30th flight for Atlantis.
The seven astronauts are commander Scott Altman, shuttle pilot Gregory C. Johnson and mission specialists Michael Good, Megan McArthur, John Grunsfeld, Michael Massimino and Andrew Feustel.
According to NASA TV, about two minutes and five seconds after liftoff, the twin solid rocket boosters assisting Atlantis' launch into space have separated as planned from the shuttle's external tank. The reusable boosters will fall back toward the Atlantic Ocean, where they will land under parachutes and be retrieved by recovery ships. They are equipped with cameras to record the performance of Atlantis' external tank and any foam loss seen during its ascent.
Atlantis is expected to reach Hubble on Wednesday. Its 11-day mission is the final shuttle flight to Hubble.
The seven-member crew will enhance the observatory and ensure cutting-edge science. The mission will put in place advanced technology that improves the telescope's discovery power by 10 to 70 times. Five spacewalks are planned to install new instruments and thermal blankets, repair two existing instruments, refurbish subsystems and replace gyroscopes, batteries and a unit that stores and transmits science data to Earth. The result will be six working, complementary science instruments with new capabilities, and an extended operational lifespan through at least 2014.