Source: Xinhua
05-07-2009 10:31
Special Report:
Tech Max
BEIJING, May 6 (Xinhuanet) -- Amid growing obesity concerns, Australia is mulling government-funded lap-band surgery to tackle the overweight problem.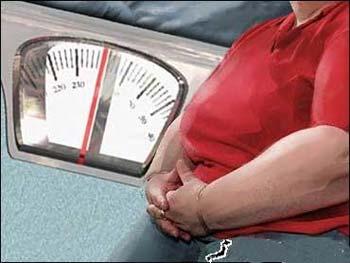 Obesity is a medical condition in which excess body fat has
accumulated to the extent that it may have an adverse affect
on health, leading to reduced life expectancy.(File photo)
According to the Herald Sun newspaper, the plan would see taxpayers pick up the bill for the surgery, which involves attaching a band around the entrance to the stomach so patients feel full after eating only a little food.
The paper said a parliamentary inquiry was set to back the move next week after evidence showed that the surgery helps obese patients lose close to 60 percent of their weight.
The plan would reduce the burden placed on public health systems through weight-related conditions like diabetes and heart disease, said the paper.
Over a third of Australia's 21 million population are estimated to be overweight, according to recent figures.
-- Click for more news in Tech Max >>
Editor:Yang Jie