Source: Xinhua
04-15-2009 10:50
Special Report:
Tech Max
LHASA, April 14 (Xinhua) -- China is planning on building six unmanned observation stations on Mt. Qomolangma in an effort to provide more accurate weather forecasts in the plateau region.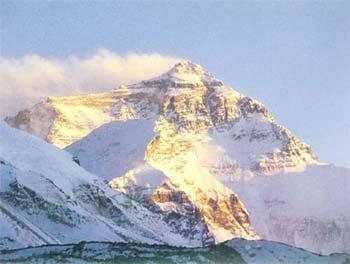 Mt. Qomolangma
The stations will cost 5 million yuan (732,000 U.S. dollars). Installation work will begin sometime this year, according to the weather bureau of the Tibet Autonomous Region.
According to the bureau's plan, the observatories will be built at altitudes between 4,200 meters to 6,500 meters above the sea. They can send humidity, wind speed and precipitation data wirelessly to headquarters in Lhasa.
Chu Duo, with the Tibet Research Institute of Plateau Atmosphere and Environment, said capricious weather in the region makes it difficult for researchers to get accurate data.
That data will help mountain climbers as well as people living in the region.
China has built six observation stations on the mountain since 2004, all of which are under the altitude of 6,200 meters.
-- Click for more news in Tech Max >>
Editor:Yang Jie