Source: Xinhua
04-10-2009 09:58
Special Report:
Tech Max
NEW DELHI, April 9 (Xinhua) -- The much-awaited bookings for the world's cheapest car Nano which worth 2,000 U.S. dollars starts Thursday across India for a limited period of 17 days, local media reported.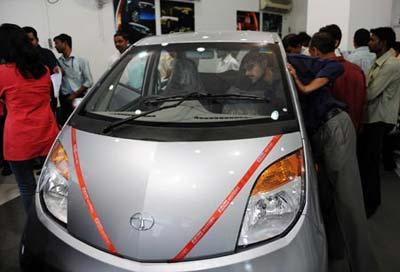 The newly-released Nano -- the world's cheapest car -- pictured at
the Tata auto-maker's plant at Pimpri near Mumbai. The Nano went on
sale on Thursday, with dealers and the company behind it confident
of strong demand despite a slump in global car sales amid the world
economic downturn.(Xinhua/AFP Photo)
Tata Motors states to accept application forms of 300 rupees (6 U.S. dollars) each for the 624-cc jelly-bean shaped Nano and a booking amount ranges between 2,850 rupees (57 U.S. dollars) and 4,110 rupees (82.2 U.S. dollars) among different banks.
Online booking for the Nano, the first such option in India, are also available with cost of 200 rupees (4 U.S. dollars)