Source: Xinhua
03-25-2009 09:00
Special Report:
Tech Max
MUMBAI, March 23 (Xinhua) -- India's Tata Motors Monday launched Nano, the cheapest the car in the world.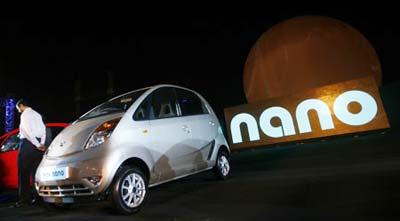 Tata Nano cars are displayed during their launch in Mumbai March 23,
2009. The Nano, the world's cheapest car, will hit Indian roads in
July, four months after its formal launch on Monday, and demand is
expected to far outstrip supply as the price tag of around $2,000
draws legions of new buyers. (Xinhua/Reuters Photo)
Tata Motors chairman Ratan Tata said at a press conference here that the sale of the car will start in Tata showroom here on April 9, with 10 million application forms to be selected randomly. Each booking form will be sold for 300 rupees (6 U.S. dollars)
He said the car has three versions for sale and has a top speed of 105 kilometers per hour.
"Today is another day in journey of Nano," he said, adding that the car is affordable for Indian families.
Described as People's Car by Ratan Tata, the car claims to promise an affordable and comfortable vehicle to millions of Indians for whom a car war far out of reach.