Source: Xinhua
04-08-2009 21:47
Special Report:
Tech Max
BEIJING, April 8 (Xinhuanet) -- Google chief executive Eric Schmidt advised newspaper owners to speed up innovation and work with the Web giant to tackle difficulties amid financial crisis.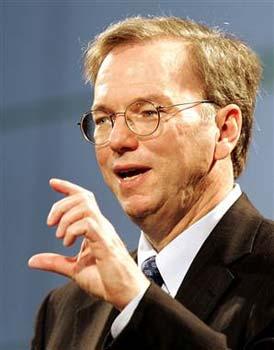 Eric Schmidt(File photo)
In his closing keynote address at the Newspaper Association of America annual conference in San Diego, California on Tuesday, Schmidt stressed that newspapers should see Google as a partner not a rival. Google, being criticised by some US newspaper owners for linking to their websites without sharing advertising revenue, focuses on the user experience and newspapers need to do the same, he added.
"If I were involved in the digital part of a newspaper, I would first and foremost try to understand what my reader wants," the Google CEO said.
"These are ultimately consumer businesses and if you piss off enough of them you will not have any more," he said. "If you make them happy you will grow them quickly. We try really hard to think that way."
In order to move forward, he said, newspapers will have to get used to the idea that they are not just generators of trusted, professional content, but also aggregators of the new kinds of content the Web has enabled.
Schmidt holds that newspapers need to make improvement in their websites."I think the sites are slow. They literally are not fast," he said. "They're actually slower than reading the paper."
Just one day before Schmidt speech, the US news agency the Associated Press announced plans to take legal action against websites that publish stories from the AP or its member newspapers without permission.
-- Click for more news in Tech Max >>
Editor:Yang Jie