Source: Xinhua
03-20-2009 14:00
Special Report:
Tech Max
LONDON, March 19 (Xinhua) -- Internet users can see a sample "street view" of Britain as a result of a new partnership between the country's national tourism agency, VisitBritain, and the world's most popular search engine, Google.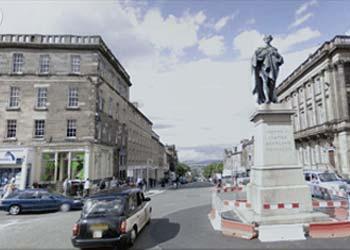 Google has secured Visit Britain, Fancyapint.com, the Mayor
of London's Greater London Authority and Tate as partners for
the Street View image mapping service as it launches in the UK.
The two organizations announced on Thursday to launch Google Street View in Britain which features 25 cities and towns from around Britain. Users of Google maps can use Street View to get an idea of some of the sights they can enjoy while visiting Britain with a virtual walking tour of destinations from the nations' capitals London, Cardiff, Belfast and Edinburgh, as well as major cities including Glasgow, Birmingham, Cambridge, Leeds and Oxford.
Last year, visits from overseas fell by two percent in the face of the global economic downturn and increasing competition from rival destinations. By working with Google Street View, undertaking innovative partnerships and exploring new ways of presenting Britain's attractions, VisitBritain hopes the country could regain its place in the top five most popular destinations in the world.
The virtual guide links to Visit Britain's global website, visitbritain.com, where users can explore some of its 1,000 destination guides. Each guide further inspires potential visitors or helps them plan their trip with information about where to stay, shop and eat out, as well as the attractions, events and experiences they can explore.
The announcement comes as British tourism heads into another holiday season. This year an extra five million Brits may consider a holiday in their own country, while international visitors can enjoy Britain's new affordability thanks to great exchange rates.
Justin Reid, head of online marketing at Visit Britain, says: "We're very excited to be working with Google on the launch of Street View in the UK. The Internet is an incredibly rich resource for raising awareness of destinations, driving travel to and around Britain. Street View is a real opportunity for us to showcase our destinations to millions worldwide."
In his views, seeing some of the country's attractions up close could inspire many more people to visit.
Google's Geospatial Technologist Ed Parsons said: "Salthouse Quay in Liverpool, Belfast City Hall, the Millennium Center in Cardiff or St. Paul's Cathedral in London -- these are just some of the delights that people up and down the country will now be able to visit, whatever the weather, right from their computer. Street View has been hugely popular with our users in Europe and worldwide and we're thrilled it's now available in UK for so many great cities, enabling users to see street-level panoramas of major city roads and look up and print out useful driving directions."
For VisitBritain, the partnership with Google Street View is part of its strategy to ensure visitors are enticed to come to Britain. As well as helping plan a trip, Street View adds an extra element to the memories that visitors will share with friends and family when they return home -- potentially inspiring them to visit in turn.
-- Click for more news in Tech Max >>
Editor:Yang Jie