Source: CCTV.com
03-13-2008 21:21
Host: Yang Rui
Part I
Topic: "One country, two systems" at work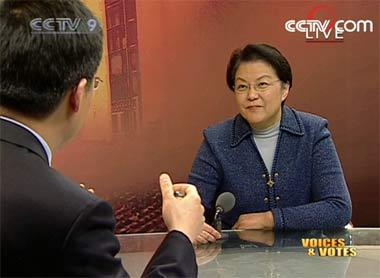 Guest: Rita Fan Hsu Lai-tai, president of legislative council, HKSAR
The president of Hong Kong's Legislative council for three terms since the handover in 1997 says she will not run for the position of chief executive of the SAR Government, nor will she take part in the upcoming legislative election in Hong Kong. But she is likely to become a member of the 11th NPC Standing Committee.
Ten years have passed since she first presided over the legislative council in Hong Kong. She's witnessed the continuous prosperity and stability of the region, despite moments of intense exchanges between the local legislature in Hong Kong and the NPC standing committee.
In the first half of our interview here on "Voices and Votes", Rita Fan joins us to talk about how she looks at the mentality of both the people in Hong Kong and the SAR Government, as the implications of "Basic Law" and the "One Country-Two Systems" are addressed.
Related News: HK, Macao advisors have high praise for benefits from closer ties with the Mainland
Backgrounder:
On the first of July 1997, Hong Kong returned to China after 156 years of British rule. The top Chinese leaders attended a handover ceremony just hours before the formal return to China.
July 1, 1997 - Hong Kong returns to China
In May 1998, Hong Kong's first Legislative Council was elected. Rita Fan Hsu Lai-Tai was the president.
May 25, 1998 - HK's first Legislative Council elected.
After growing pressure from an influx of mainland immigrants, in June 1999, the National People's Congress clarified the Hong Kong Basic Law for the first time. The law says only legitimate mainland children born to Hong Kong residents have the right to permanently live in Hong Kong.
June 26, 1999 - the NPC explains the HK Basic Law.
In the spring of 2003, the SARS virus hit Hong Kong. Nearly eighteen hundred people were infected and about three hundred died. Hong Kong was declared SARS-free in June.
March-June 2003 - SARS virus hits HK; 299 die.
In March 2005, Hong Kong Chief Executive Tung Chee Hwa resigned and the Chief Secretary for the Administration, Donald Tsang, took over. In March 2007, Tsang was elected to the third term of chief executive with a high support rate.
March 2005 - Tung Chee Hwa resigns, Donald Tsang takes over.
On July 1, 2007,Hong Kong celebrated the tenth anniversary of its return to China. The same day, President Hu Jintao swore in Donald Tsang as chief executive.
July 1, 2007, HK celebrates the tenth anniversary of return.
In December 2007, the National People's Congress Standing Committee decided the election of the fifth HK SAR chief executive in the year 2017 can be carried out by universal suffrage.
December 29, 2007 - NPC Standing Committee amends election law.