Source:
02-26-2009 16:54
The Mediterranean Sea is a sea or Ocean off the Atlantic Ocean surrounded by the Mediterranean region and almost completely enclosed by land: on the north by Europe, on the south by Africa, and on the east by Asia.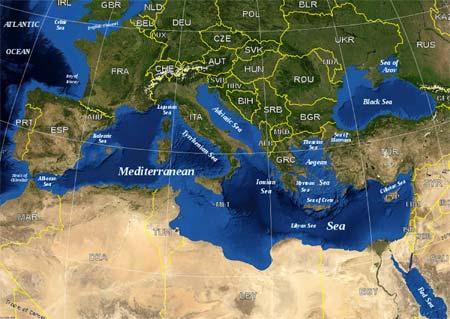 Map of The Mediterranean Sea(File photo)
The name Mediterranean means: "in the middle of the land". It covers an approximate area of 2.5 million km² (965,000 sq mi), but its connection to the Atlantic (the Strait of Gibraltar) is only 14 km (9 mi) wide. In oceanography, it is sometimes called the Eurafrican Mediterranean Sea or the European Mediterranean Sea to distinguish it from mediterranean seas elsewhere.
The maximum depth is 20,916 feet (6,375 m) and average depth is 9,898 feet (3,017 m).
It was an important route for merchants and travelers of ancient times, allowing for trade and cultural exchange between emergent peoples of the region — the Mesopotamian, Egyptian, Phoenician, Carthaginian, Greek, Levantine, Roman, Moorish and Turkish cultures. The history of the Mediterranean region is crucial to understanding the origins and development of many modern societies. "For the three quarters of the globe, the Mediterranean Sea is similarly the uniting element and the center of World History."