Source: Xinhua
05-05-2009 12:14
Special Report:
Tech Max
MEXICO CITY, May 4 (Xinhua) -- The second batch of humanitarian aid donated by China to Mexico to help fight the A/H1N1 flu arrived in Mexico City International Airport on Monday aboard a Southern Airlines flight.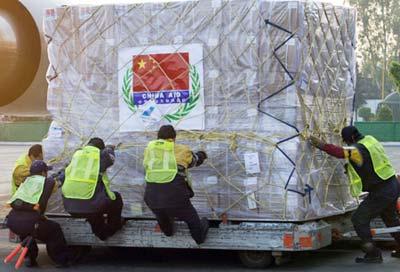 A cargo plane of China Southern Airlines ferrying the second load of
China-donated relief supplies to help Mexico battle an outbreak of
Influenza A/H1N1 landed at a Mexico City airport, May 4, 2009.
(Xinhua Photo)
China's Ambassador in Mexico, Yin Hengmin, received the aid, which consists of 6,300 boxes of medical and hygiene equipment weighing 70 tons, at the airport's Presidential hangar, alongside the head of the Mexican Foreign Ministry's international cooperation and economic relations unit, Rogelio Granguillhome.
The aid includes face masks latex gloves, disinfection tools and thermometers, according to information published by China's Trade Ministry.
The first shipment was formally received on Friday by Mexican President Felipe Calderon, who thanked China and said the aid was welcome and useful.