Source: Xinhua
04-30-2009 10:25
Special Report:
Tech Max
MEXICO CITY, April 28 (Xinhua) -- Three more people died in the last 24 hours of swine flu, Mexico City officials told a Tuesday press conference, adding that local authorities had ordered the closure of more public places.
The total number of deaths in the city believed to be related to swine flu is now 25, while 89 people are in hospital with swine-flu symptoms, said Armando Ahued Ortega, head of the city's health department. He said that 31 people had been hospitalized on Monday while 14 had been discharged from hospital.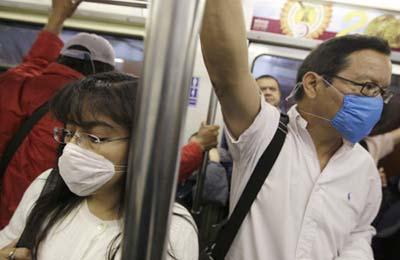 Passengers wear protective masks as they ride Mexico's city subway
April 28, 2009. (Xinhua/Reuters Photo)
"If we follow this path, we will be able to halt new infections and reduce deaths and save those who have been infected with this new virus," said Mexico City Mayor Marcelo Ebrard Casaubon at the same press conference.
He said that Mexico City now has 320 people believed to have been infected with swine flu, down from 326 on Monday and 351 on Sunday. Five people died on Sunday, compared with three on Monday.
The city has been giving out face masks on public transport, closing public parks and entertainment centers, and urging citizens with symptoms of the flu -- a sharp increase in body temperature, headaches, muscular pains and breathing problems -- to visit their nearest medical center as soon as possible. Those who died had mostly sought medical help only when the disease was well entrenched.