Source: Xinhua
04-29-2009 10:11
Special Report:
Tech Max
BEIJING, April 28 (Xinhua) -- As the H1N1 swine flu is reported to have claimed 152 lives in Mexico and is confirmed to have hit Europe, the whole world is on higher alert for the new deadly virus, with the World Health Organization raising its pandemic alert level.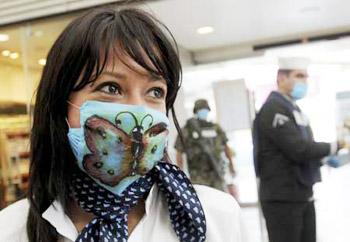 Cristina Trejo, who works at the Mexicana airlines counter,
wears a surgical mask with a butterfly painted by herself at
Mexico City's international airport Benito Juarez April 27,
2009.(Xinhua/Reuters Photo)
About 2,000 people in Mexico have been hospitalized with swine flu as of Monday, 776 of them in serious condition, according to official statistics.
In a new preventive measure, the government ordered the cancellation of school activities at all levels, from kindergartens to universities, across the country through May 6.
Up to 40 cases of swine flu were confirmed in five states across the United States as of late Monday, prompting the government to release 25 percent of a federal drugs stockpile to states fighting the pandemic.
U.S. health officials said the cases were in the New York city and the states of Ohio, Kansas, Texas and California.
A 51-year-old South Korean woman, among three back from a recent trip to Mexico, was confirmed the first suspected swine flu patient in the country early Tuesday.
The flu was designated by the South Korean government as an infectious livestock disease and allowed authorities to limit movement. The government also ordered to destroy and bury the sick animals, and compensate farmers if the outbreak of swine influenza is discovered in the country.
Scottish Health Minister Nicola Sturgeon confirmed Monday two people coming back from Mexico have been tested positive for swine flu in Britain.