Source: Xinhua
04-28-2009 11:50
Special Report:
Tech Max
HONG KONG, April 27 (Xinhua) -- Hong Kong Chief Executive Donald Tsang said Monday that the city is well prepared to deal with swine flu cases with its top medical facilities and preventive measures.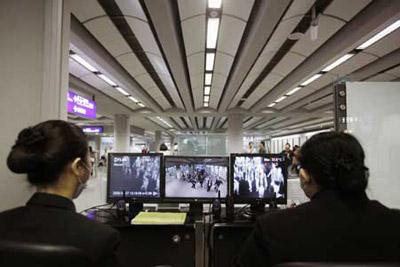 Staff members check the temperature of passengers with the help of
machines at Hong Kong International Airport in Hong Kong, south China,
April 27, 2009. Hong Kong Special Administrative Region has taken
measures to contain the possible spread of swine flu. (Xinhua Photo)
Speaking at a media session at the Hong Kong International Airport, Tsang said as Mexico, where there is a large outbreak of swine flu, is a popular tourist destination which sees visitors from Hong Kong and the Chinese mainland, it is quite possible the virus could be carried into Hong Kong.
Tsang said that the government is of high vigilance and has stepped up to measures to deal with the issue and will provide updates on the latest swine flu situation to the public daily.